April 1st, 2018
One of my old dreams from decades past was to have had an amplified stereo setup for the accordion but with no wires between me and the amp or mixer. Well, I've taken the first step to begin this process. It was about mid-March when an interesting post was placed on the Accordionists forum about a very affordable transmitter/receiver setup that was both wireless stereo and affordable. You see, traditionally, it is not uncommon to spend somewhere between $1000 and $3000 for a good setup. I say that to set expectations, because when I mention the price later here, you will understand what kind of a deal these units are.
Well, I checked out the website and kind of noticed something interesting. Because I have lived here in Quebec for so long, I've grown accustomed to the ways people speak, in particular, those small grammatical errors that French people make when speaking (or in this case, typing), in English. I made a small comment that it looked like a Quebecer translated this… were they a small company in Quebec, and if so… where?
Turns out I was right. This company is basically a one man company who, as his hobby, made these very cool wireless receiver/transmitters! So I just had to find out a little more about it and also had to pick up a set to play with for myself. A couple of emails later, and I was on my way to St-Jean sur Richelieu, a town south of Montreal, to meet the man who made them.
Jonathan is a really bright man, a master electronics designer who designs electric cars and bikes for a living. He also is a musician and understands the needs of musicians, so he made the X-100 as a kind of pet project. His units are a VERY affordable $139.00Cdn plus shipping. That is a very interesting price point for a true stereo digital receiver/transmitter set with a reliable 100 foot range.
Of course, we should set expectations here a little. For example, you cannot expect a top of the line product for around $150Cdn and for that price, it is reasonable to expect a few limitations. Let's get through those and get them out of the way and then mention some of the good stuff!
There is no off/on switch, that happens when the unit is plugged in.
There is no adjustable channel range… you get what you get (but they can work with as many as 40 units together at a time)
There is a 100 foot range and for some that might not be enough
There is no screen to show channels or signal strength
There is no monitor output at the receiver side or the transmitter side.
The biggest issue for some is the aapproximate 25ms latency from point-A to point-B
Let me first say that absolutely none of these limitations affect me in any way. Used in the manner in which I intend to use them, they are a wonderful addition to my kit and I look forward to using them.
Early tests show that they should be able to meet/beat that 100 foot range handily. For example, in my first test I placed the transmitter on the floor under my big Mackie 1640i mixer in the basement of my home, then I walked all the way up to the 2nd floor without so much as a minor hick-up. That signal had to pass through my mixer, through 2 floors, several walls and this is with the transmitter in my back pocket, something that is not recommended. It managed to send/receive a stereo signal flawlessly through all this!
The units themselves are small and light and very simple/basic. This means they are easy to use, however, they do have several nice things about them that I do like.
The price!
There is a 100 foot range which for me that is more than enough
They are small and light
Easy to use, intelligent design
A -3db cut filter to dramatically drop the noise floor
An integrated preamp on the left channel with potentiometer adjustability
Super easy to pair, but they come paired and fully charged
USB charging (5 hours from drained battery to full charge)
Integrated rechargeable battery with 8 hour lifespan or one can plug them in to a portable power supply or wall charger and run for practically unlimited amounts of time.
As of this date, I have not yet used them in other than the first test that I did, but I will be soon adding to this article because I will make my own custom 1/4″ jacks that are "stereo-to-dual-mono" adapter cables. I already have the parts, just need to find the time to solder them all up.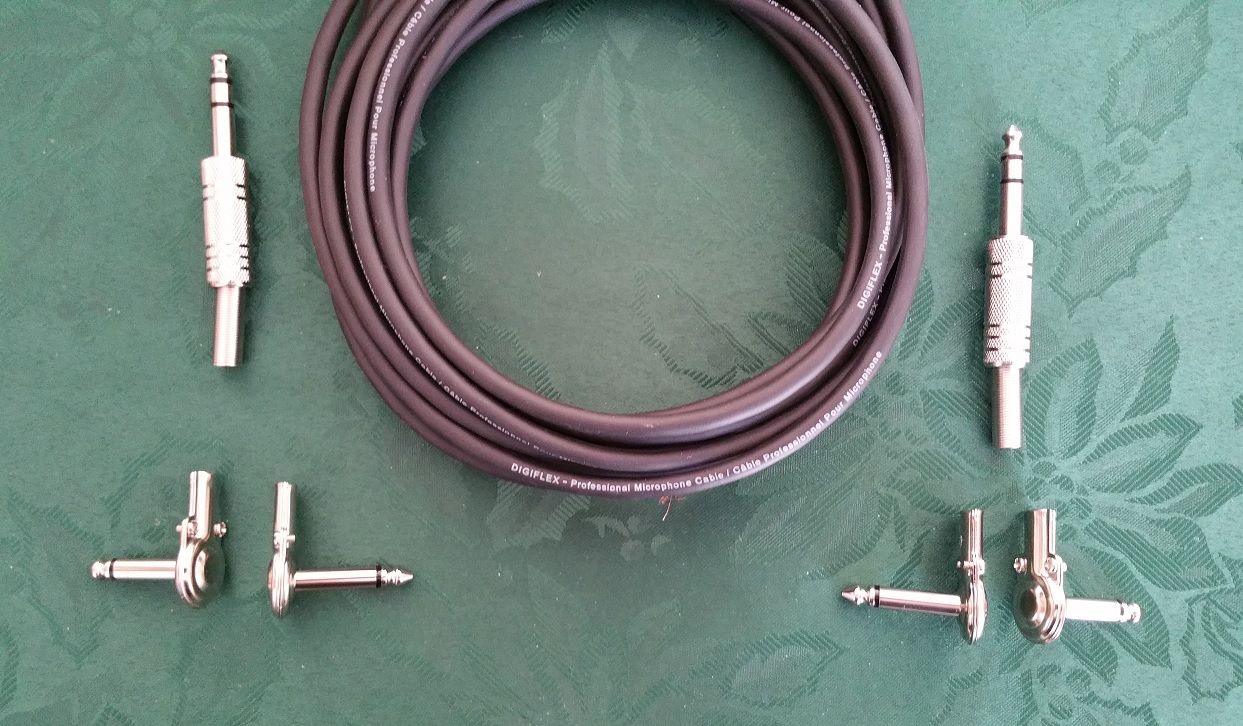 Here is a little unboxing video showing what they look like and the features:
---
Addendum April 15, 2018
I had to make my own custom cables, of course, and I am a bit embarrassed to say it, but instead of the usual fast and easy work done in a few minutes, these two darn cables took me several hours to make! The end result, though, is that I have a set of custom cables made just the way I like them. Here are a few pics of the completed results: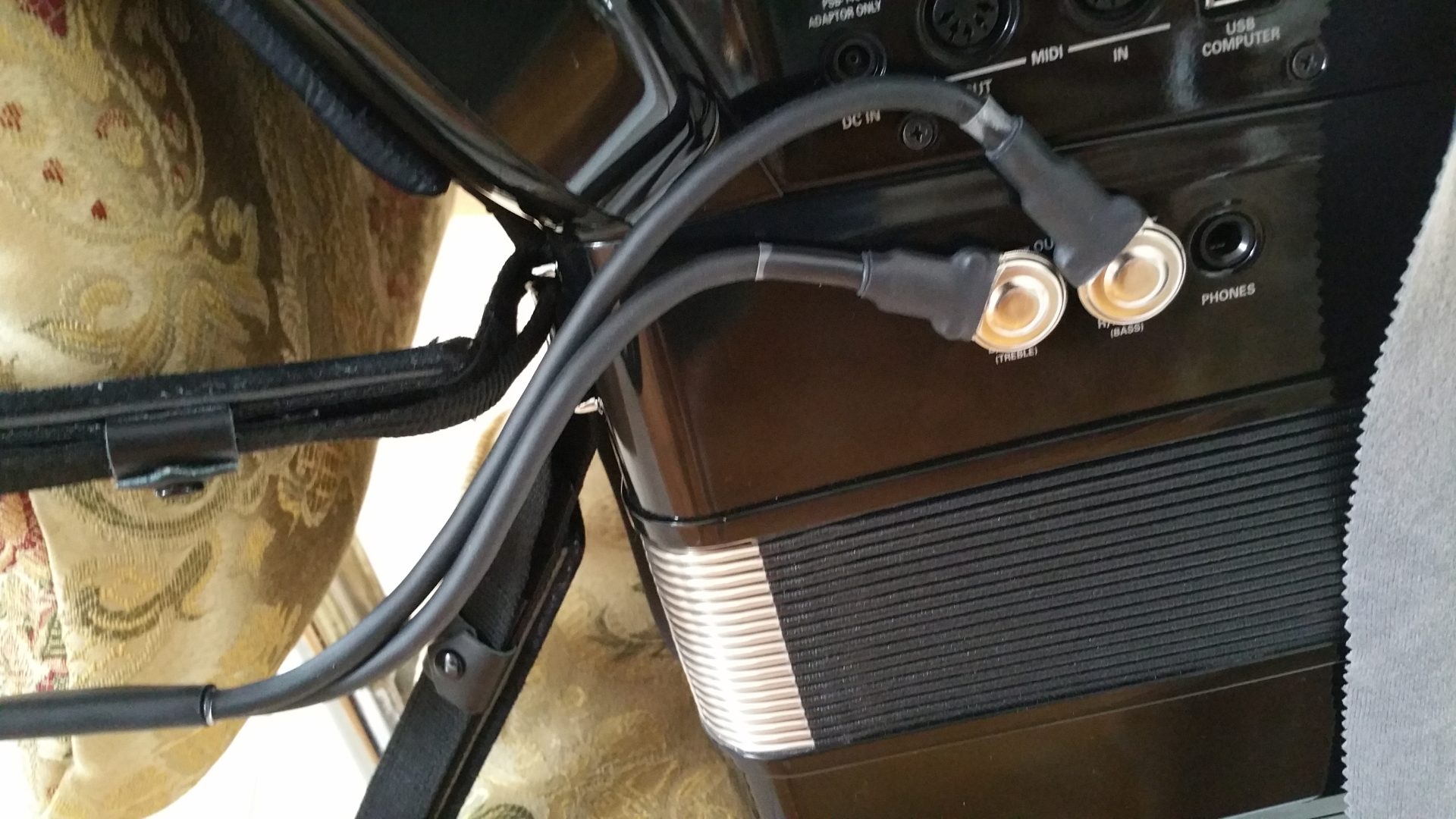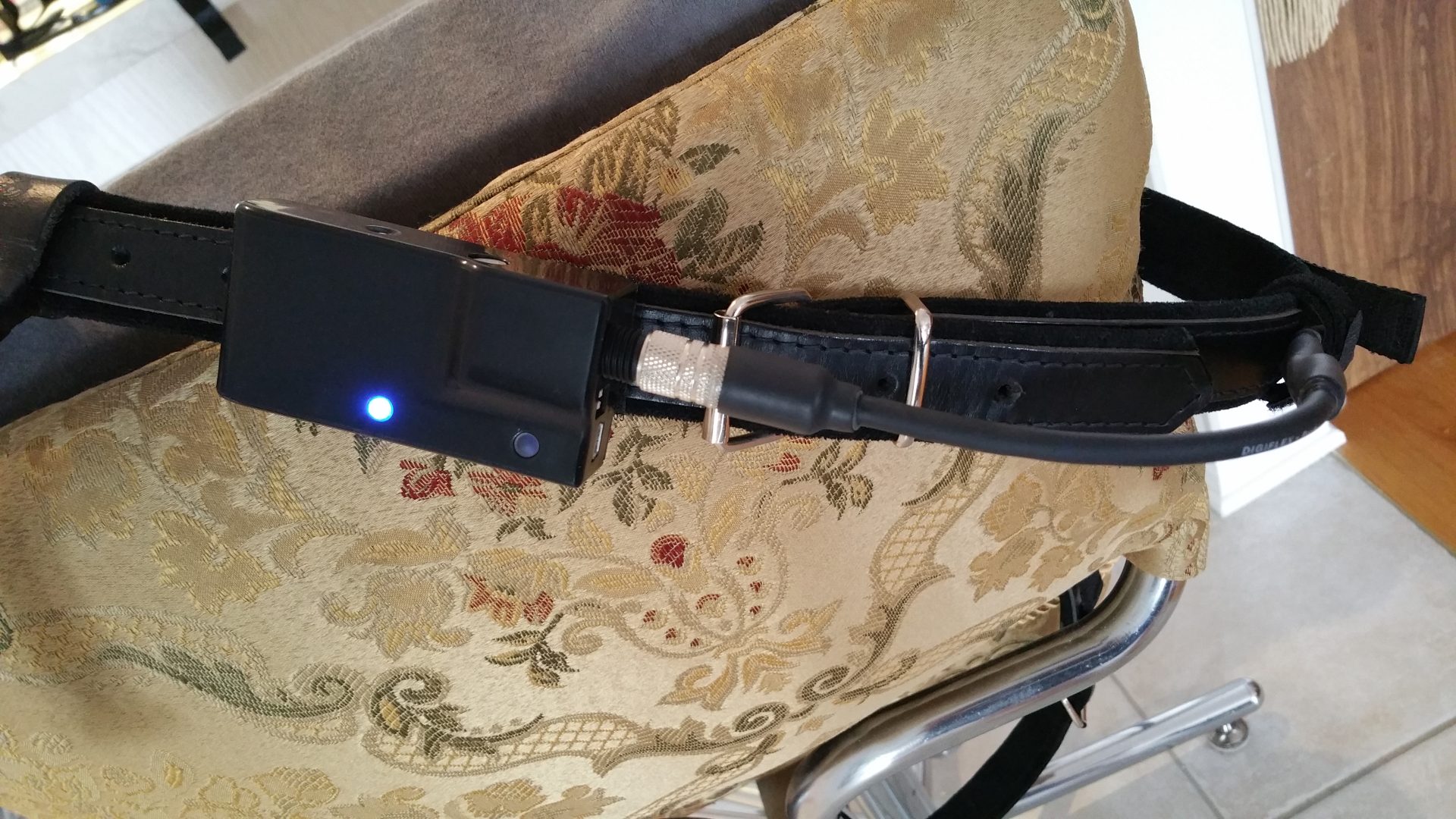 The completed cables with the wireless adapters: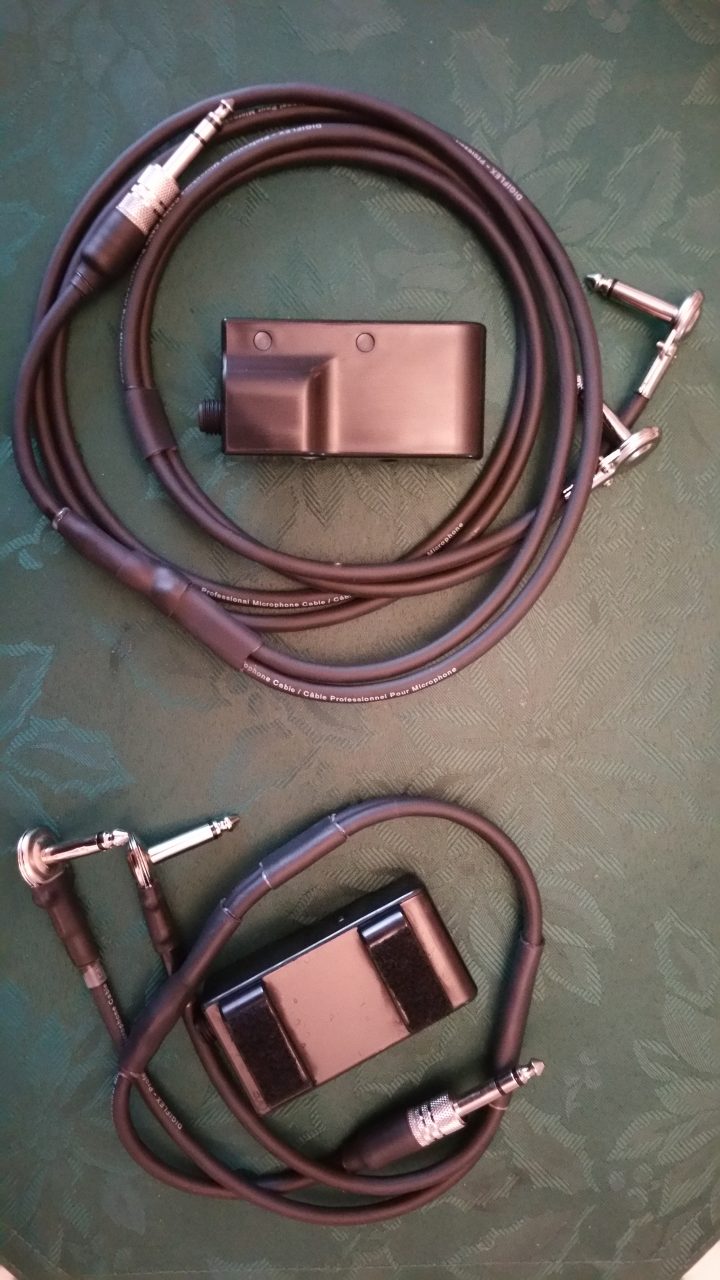 The cables need to hit these angles to fit around each other. Note that I used the flatter pancake plugs for more comfort when playing seated. Yes, there is still room for a future wireless MIDI adapter in there.
I left the cabling loose so that I can take a couple of Velcro straps and hold the wire in place. With just one Velcro strap in place, it makes the cable bulge, but when playing it is all going to fit in place nicely.
This is where the transmitter is going to be.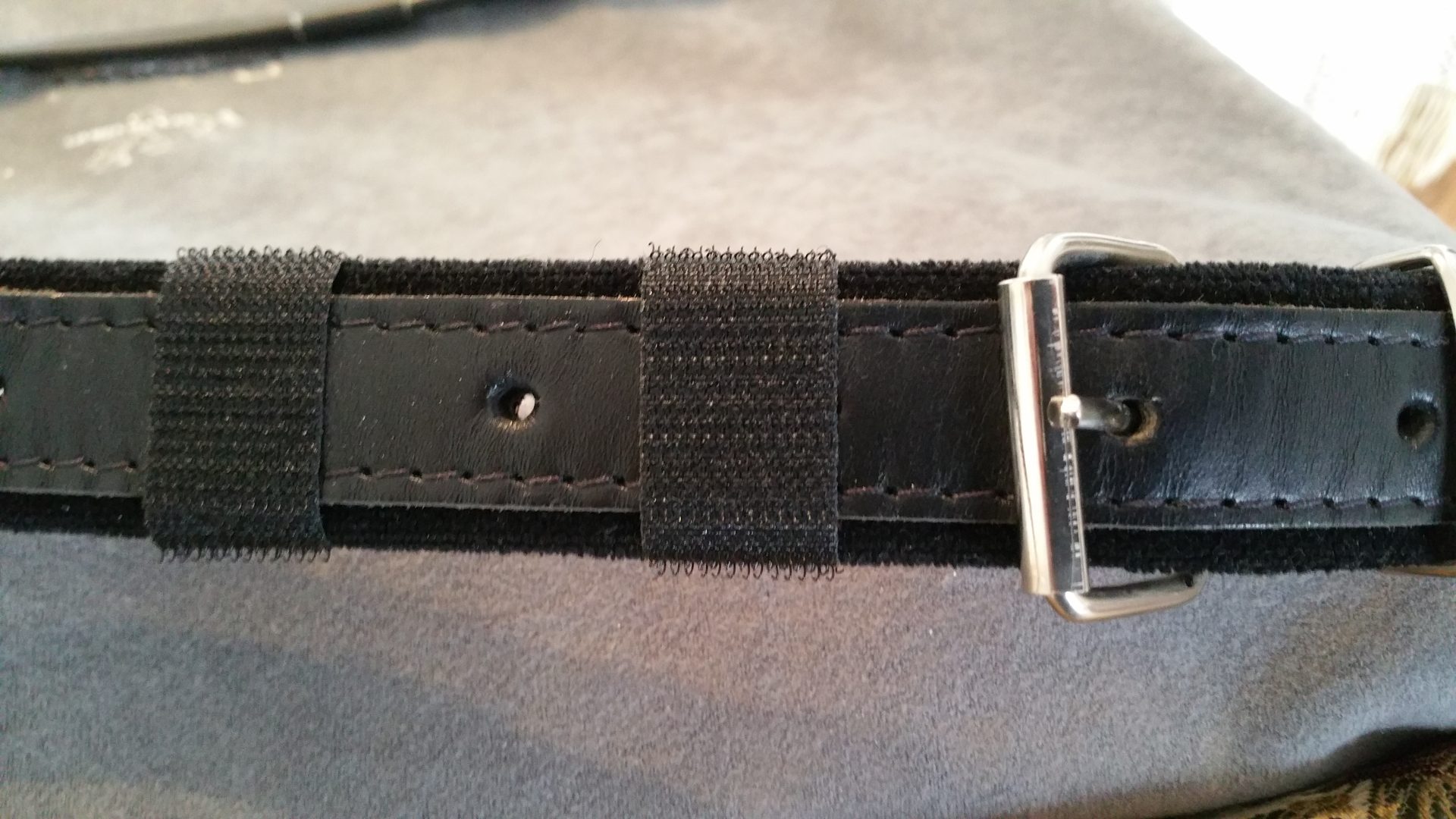 I added some loop Velcro to the back of the unit. I added the hook Velcro to the strap and the loop side to the transmitter.
The mixer-side cable is a lot longer because I might want to make something that will raise the receiver a bit higher (perhaps a small pole with Velcro where that receiver will be held), so that when my back is to the setup, there is a much better chance for line-of-sight and that results in better performance.
That's it for now… ENJOY!
---
---