October 26, 2016
Today I went to my first meeting ever of an accordion club. I visited with the Quebec Accordionist Association (more commonly called Association Des Accordeonistes du Quebec or ADAQ). Basically they are a fun group of people that gather once a month or so to enjoy the accordion. Unlike what I imagined it would be, there were actually very few people playing the accordion there, perhaps 4-6 total, and one person playing most of the time (ends up he is the president of the club), but the number of people there had to be close to 80-100, and so the mood was jovial with lots of singing along by the audience and appreciative clapping. If I had to make a kind of an observation, I would hazard to say that I was pretty much the youngest person there, and at 56, I am not all that young (haha)!
What I found totally different from what I thought would happen is that it's all quite random. There is no predefined order of players or what they will play and overall not even all that many people playing… and the one thing that would throw me off if it happened to me, is people joining in and stopping playing randomly with whoever happens to be playing. Some are amplified, most are not. The organization of that aspect is pretty much non-existent and yet it seemed to work for them on that evening. I don't know if this is normal for them or if on other nights there is a little more order. Another thing that was made clear is that this night's theme of western music was the first time that they ever had pre-planned a theme at all, and that the one in November has no theme planned.
The event starts at 6:00pm and is three hours in duration. Almost on cue, once 9:00pm arrives, people start leaving en-masse.
Here are a couple of (not so hot) pictures taken with my cell phone: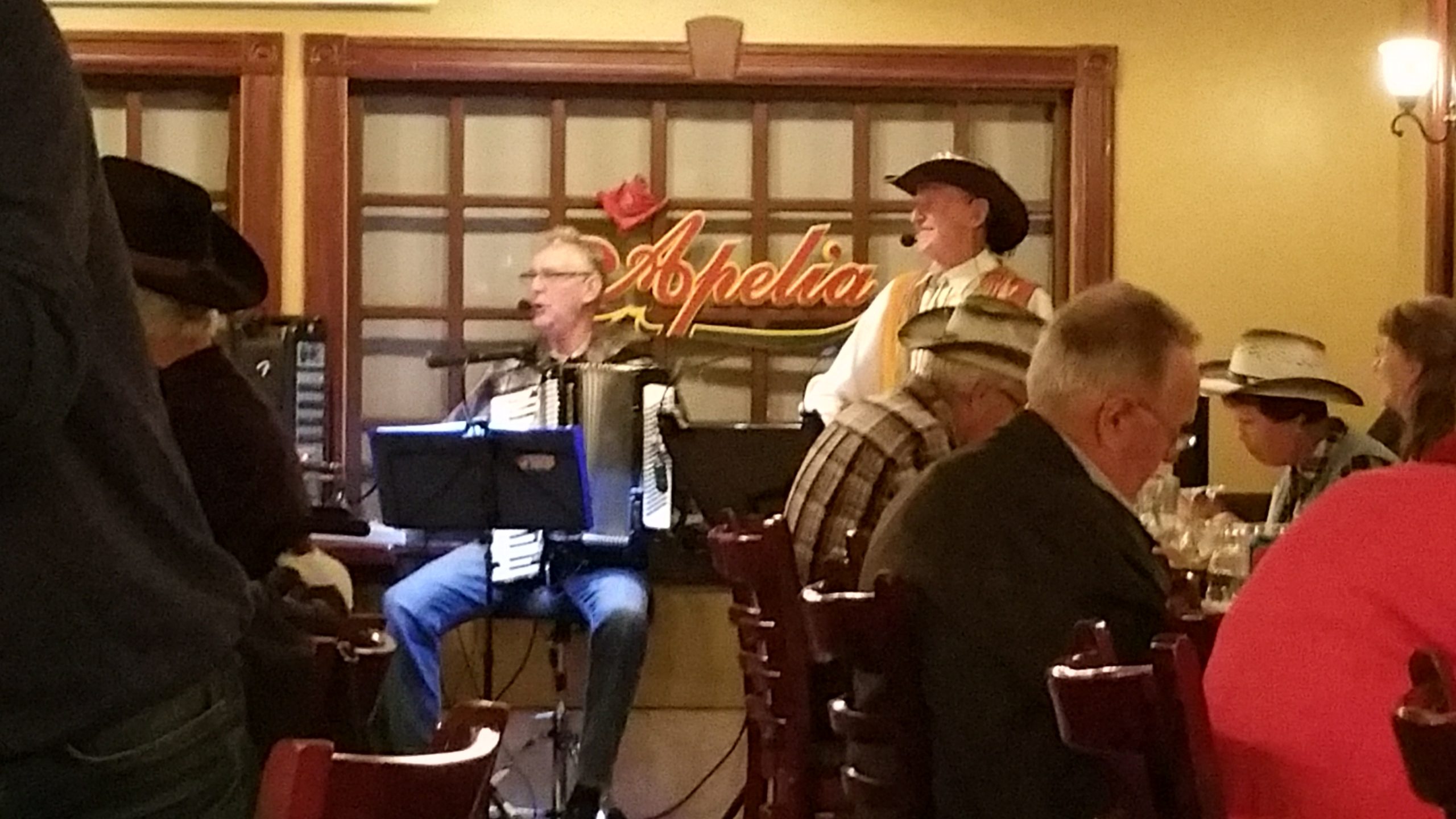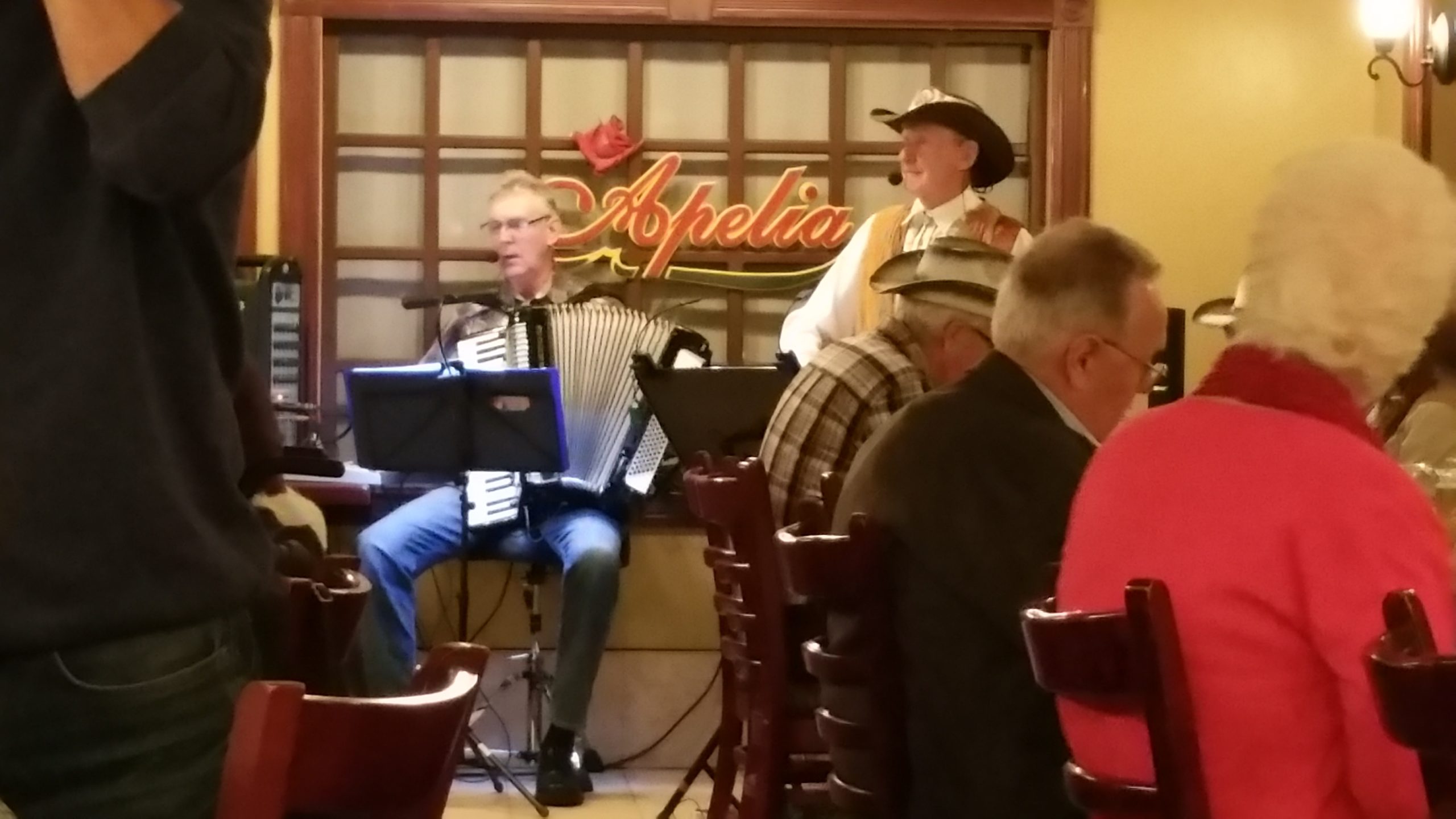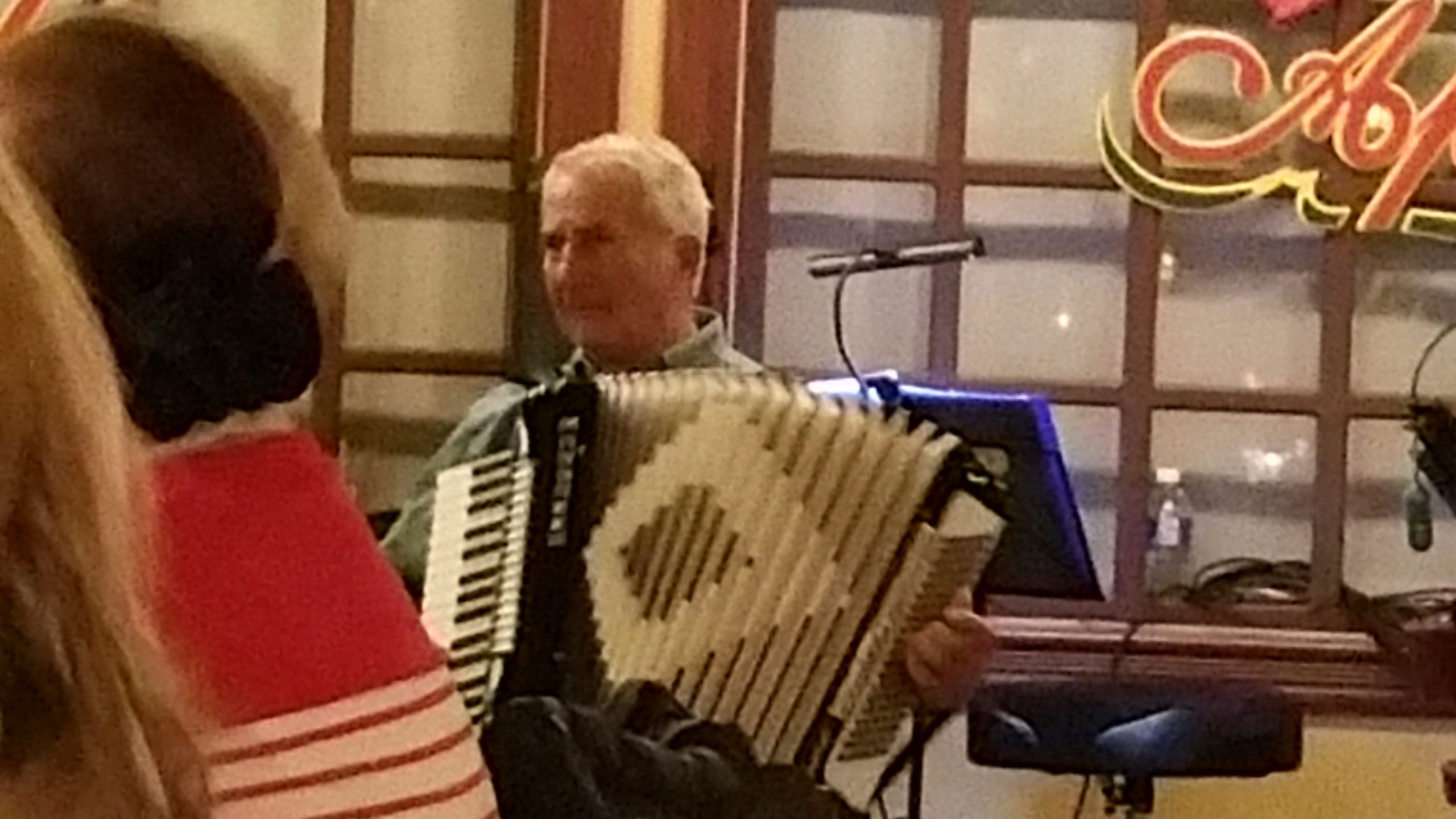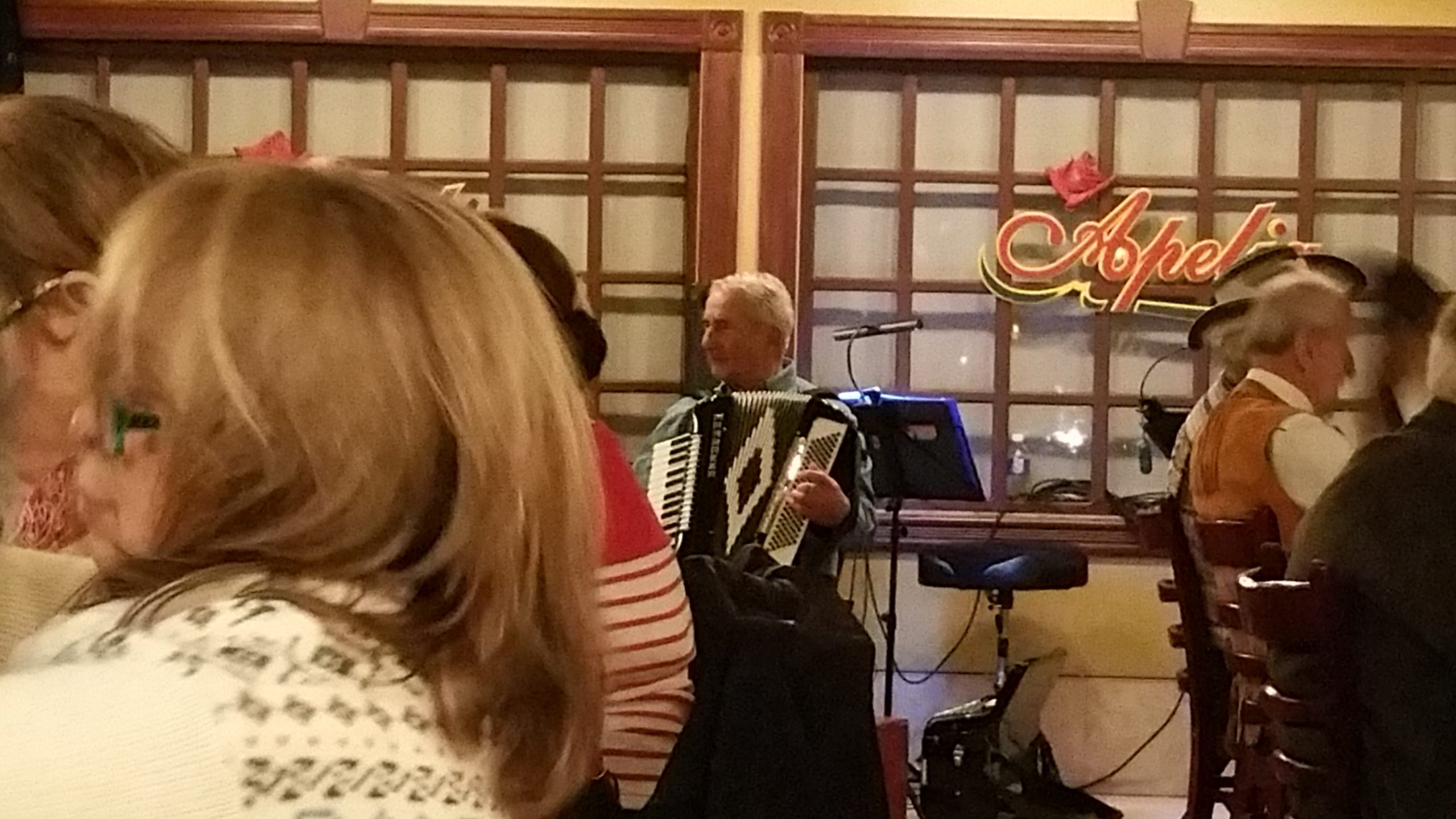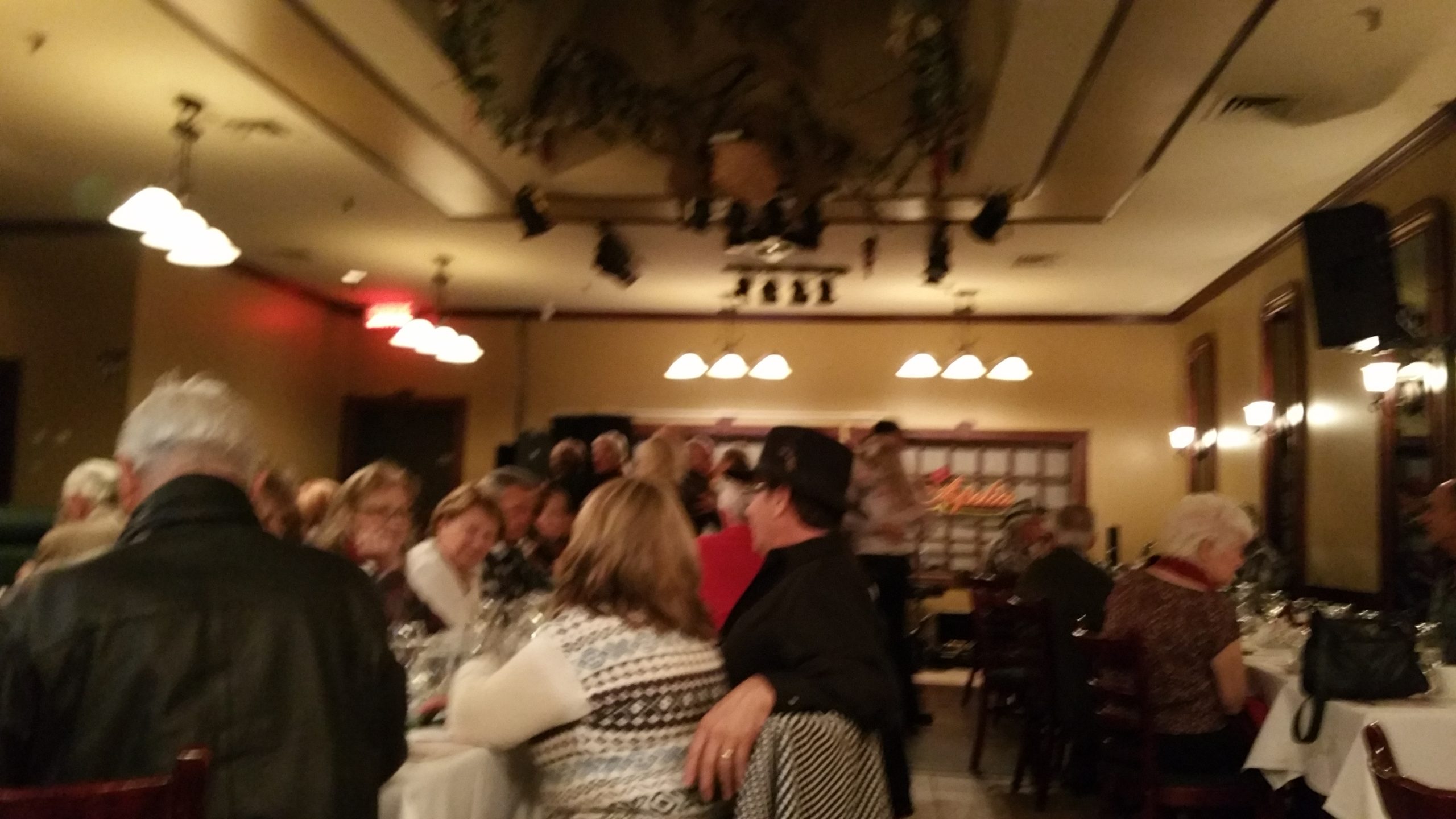 I could not get a clear shot of the president, but he plays on an impressive Beltuna with MIDI integrated. There was a small sound system set up there for people to plug in to if they wanted, and a couple people took advantage of it. That night's theme was "Western Night" and most came dressed in something resembling western attire (cowboy hats, etc…). The evening started off with western music, but quickly changed over to other styles. Italian, English and a lot of French music was predominant.
Oh, I forgot to mention, I was not alone there that night, I had my mom with me and we enjoyed the evening. Though there were very few people there that spoke english, causing my mother to feel slightly left out of the conversation at times, I tried to do the translation thing and make sure she was part of the fun and conversation as much as I could.
A couple of interesting moments… I had one guy make a fairly generous offer for my Hohner Morino VI N (sight unseen, but we all know that there wasn't enough money in the entire world to entice me to sell it!) and at one point, we were introduced to a very nice lady that ended up sitting beside us for the evening. Her story was that she did not play the accordion, but her husband had purchased a new accordion just 8 months earlier. When I asked her which of the accordionists there was her husband, she just openly said that her husband had died not two months ago and she was trying to sell her husband's new accordion, a Roland FR-8x. Interesting coincidence.
The evening was filled with fun and we also ate a great meal and even had a couple of Sam Adams beers to top off the evening with! Overall, it was a nice event that I am interested enough to return for another time in November, but the highlight of the season is of course the Christmas event on December 10th. There is even the remote chance that I might perform there at this event!
A couple of videos taken, again, from my cell phone:
If I go to the next one, I'll post about my experiences again!
---
---