January 15, 2024
A nice little project was started today!
Tom is an internet friend of mine from Wisconsin and we did the odd Zoom session last year. I even helped him out a little with some zoom lessons on accordion basics.
Before Christmas, we hit on a challenge of making a little collaboration together where he would lead, I would accompany and the goal would be to make a video together. He chose the song (Moon River) which is a lovely little piece. Since then, we've both been a bit busy and I just had a full 30 minutes to look over the piece, play it through 2 times and make a recording of the music today so we finally have a start to the project!
I set it up where I used 4 tracks, 2 for a stereo track of the BK-7m (basically the backing track for him to practice with), and 2 for a very basic accordion track (I'll be using individual mono tracks per instrument moving forward), so that Tom could hear where the accordion starts and stops. I did that because I used an intro and ending in the backing tracks and for some if you do not hear it, can be a touch confusing.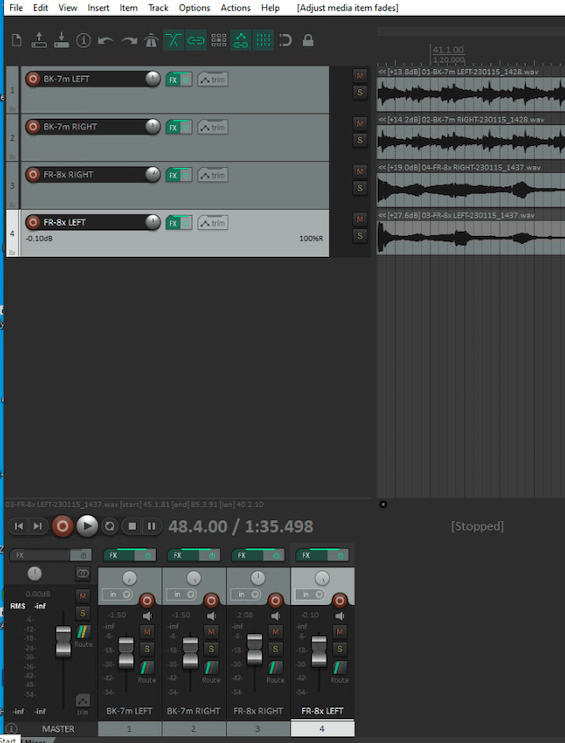 After doing a fast render of the 2 files, I emailed them to Tom. This is what I sent:
Moon River with basic accordion melody:
Moon River just the backing track:
There is absolutely no timeframe or rush for this project, it is just something fun to do and enjoy. Ultimately, the goal is for us to make a small video together.
As it advances, I will post more info here.
Addendum February 24, 2023
I finally completed it and Tom liked the final result enough that he posted it to his YouTube channel and on the accordion forum.
Originally Tom used his Piatanisi acoustic accordion, so I used my Roland digital one, but Tom wanted to make a few changes. In the next video he switched to his digital accordion, so I moved to the acoustic. This was not planned or even discussed, but I just wanted that aspect of different generations and styles of accordions to be in the video. The Hohner Imperator V served well in this case… and I'll call this a success!
Enjoy!
---
---