April 13, 2016
My Hohner Morino VI N accordion came from the factory with two electret mics installed, but the connectors and cables were unique to Hohner. I must have taken the entire basement apart 3-4 times and looked through our entire house while trying to find them and even scoured the shed in the back of the house several times as well, all without success. I really want the accordion to be 100% again and that means being functional and pluggable into an amplifier or mixer. So this became my first "repair". I needed to find those cables, and since I could not find them anywhere in Canada , USA or even the UK, I went to the source… the Hohner factory in Trossingen Germany. On April 9, 2016 I contacted Hohner by email and they replied that they did not have them in stock, but knew of a local place that did… and so that same day I placed the order and paid the slightly ridiculous price of 50 Euros (expedited shipping included), to get two 15 foot cables with the proper connectors straight from the source.
Yes, I overpaid for the cables, but I really wanted them, and there was no other place to find them, so at the writing of this post, they are in a package and on their way from Trossingen Germany, home town of Hohner. I bet that the day they arrive, my original cables will magically appear on my table. Sure, I know that I could have easily saved like $50 by changing the connectors and making my own cables, but unless there was no other choice, this was not going to happen. I want it to be as original as possible at this point. We'll find out when they hopefully arrive within a couple of weeks if all is good. As of my last received email on April 7th, the cables have been shipped. I did get a tracking number, but it is only good within Germany, so there is no way I can track them once they have left the country.
April 12, 2016
Surprise! It's April 12th, and I had a package come in today… my cables came in already all the way from Germany in an amazingly fast 5 days! Below we have a sliding gallery window. Clicking on the left or right side of the picture moves the gallery forward or backward.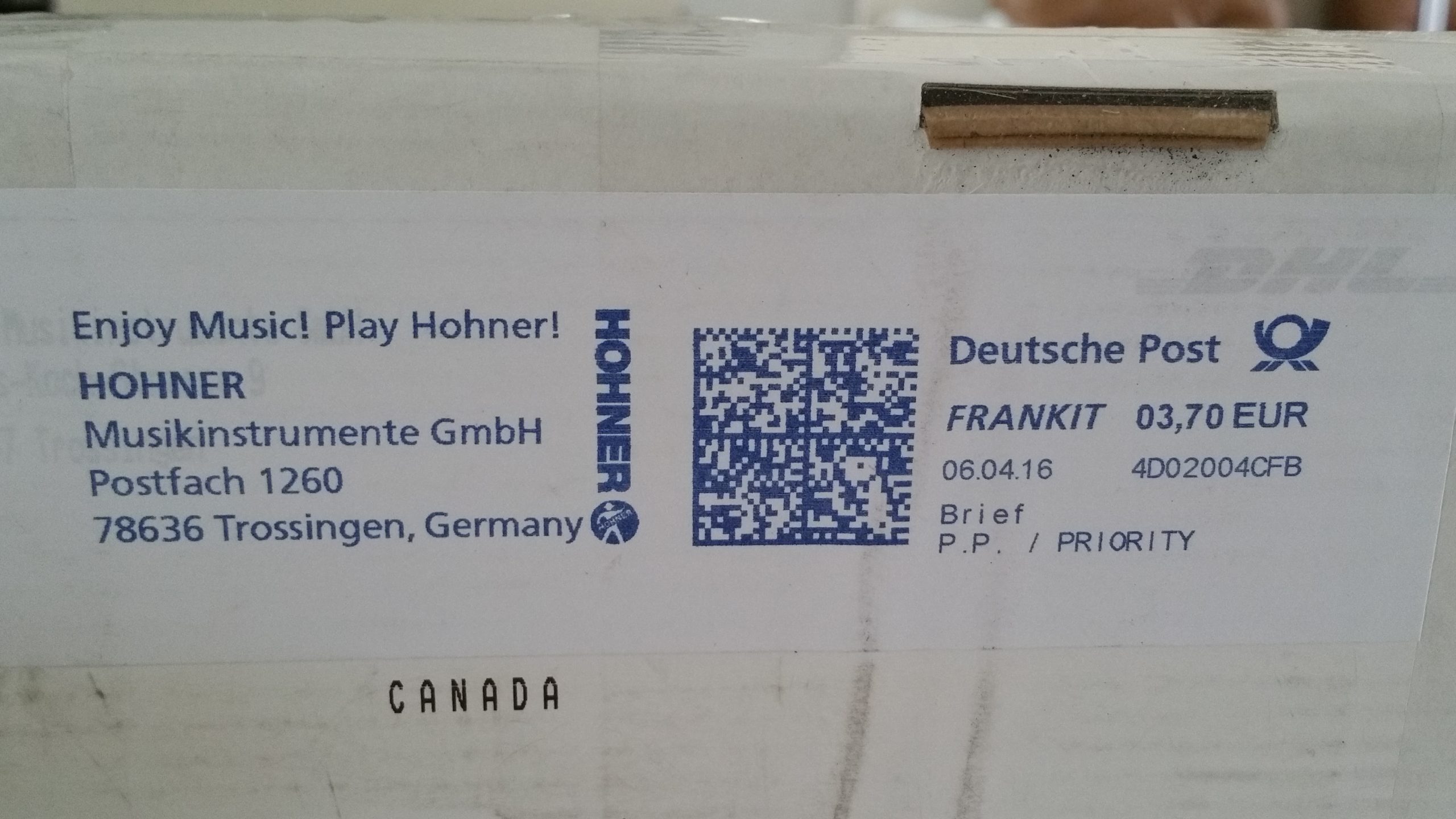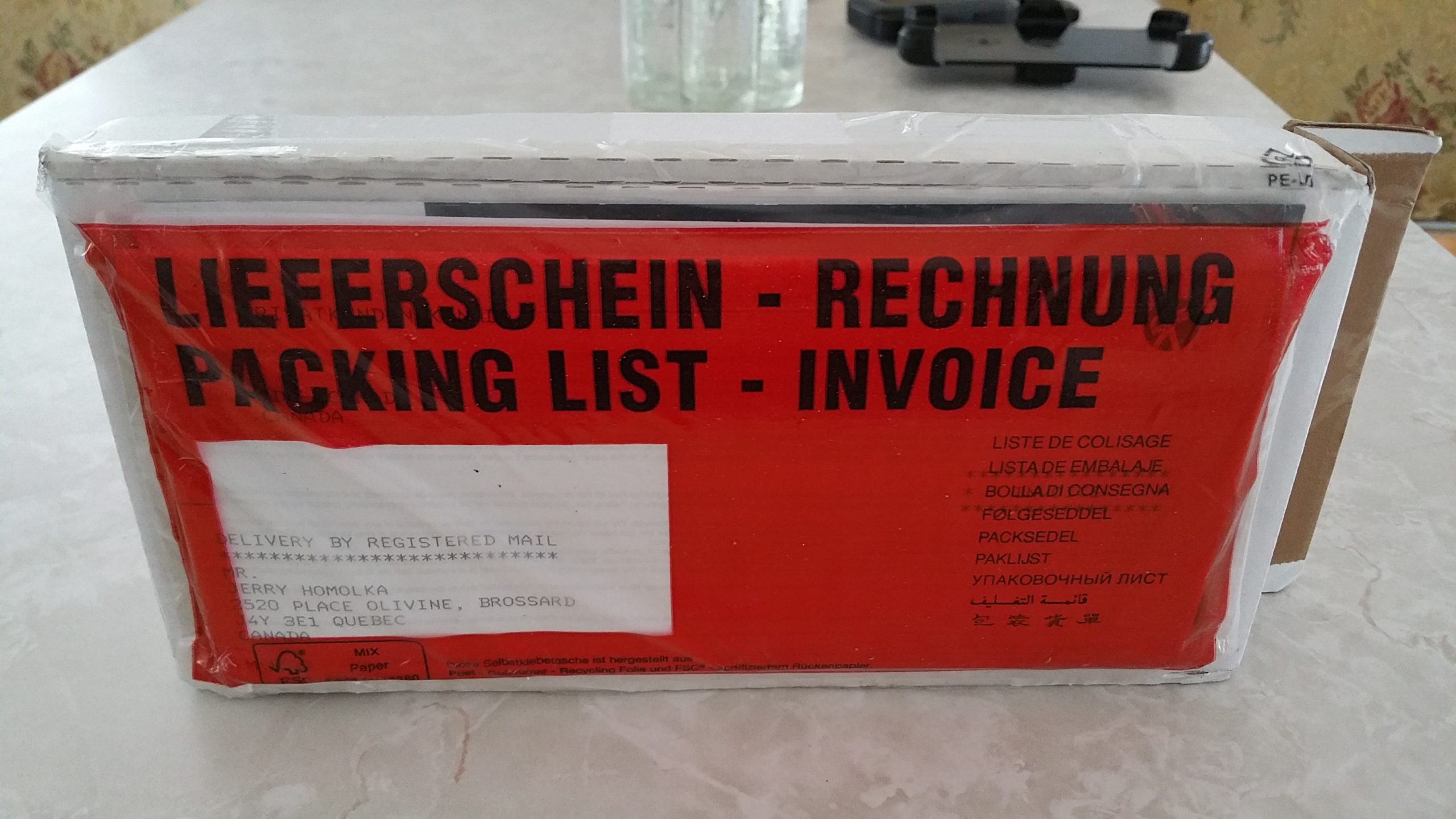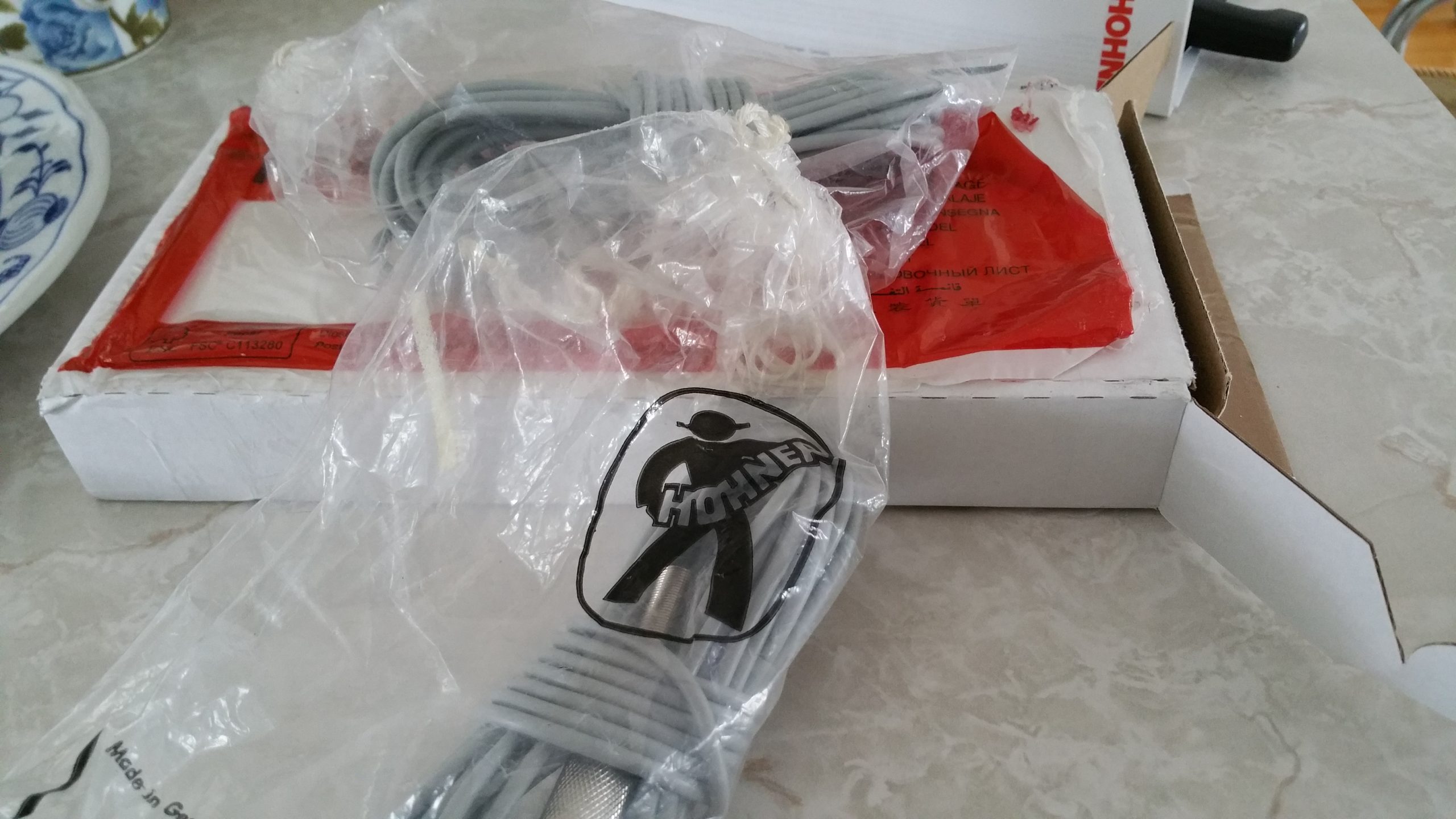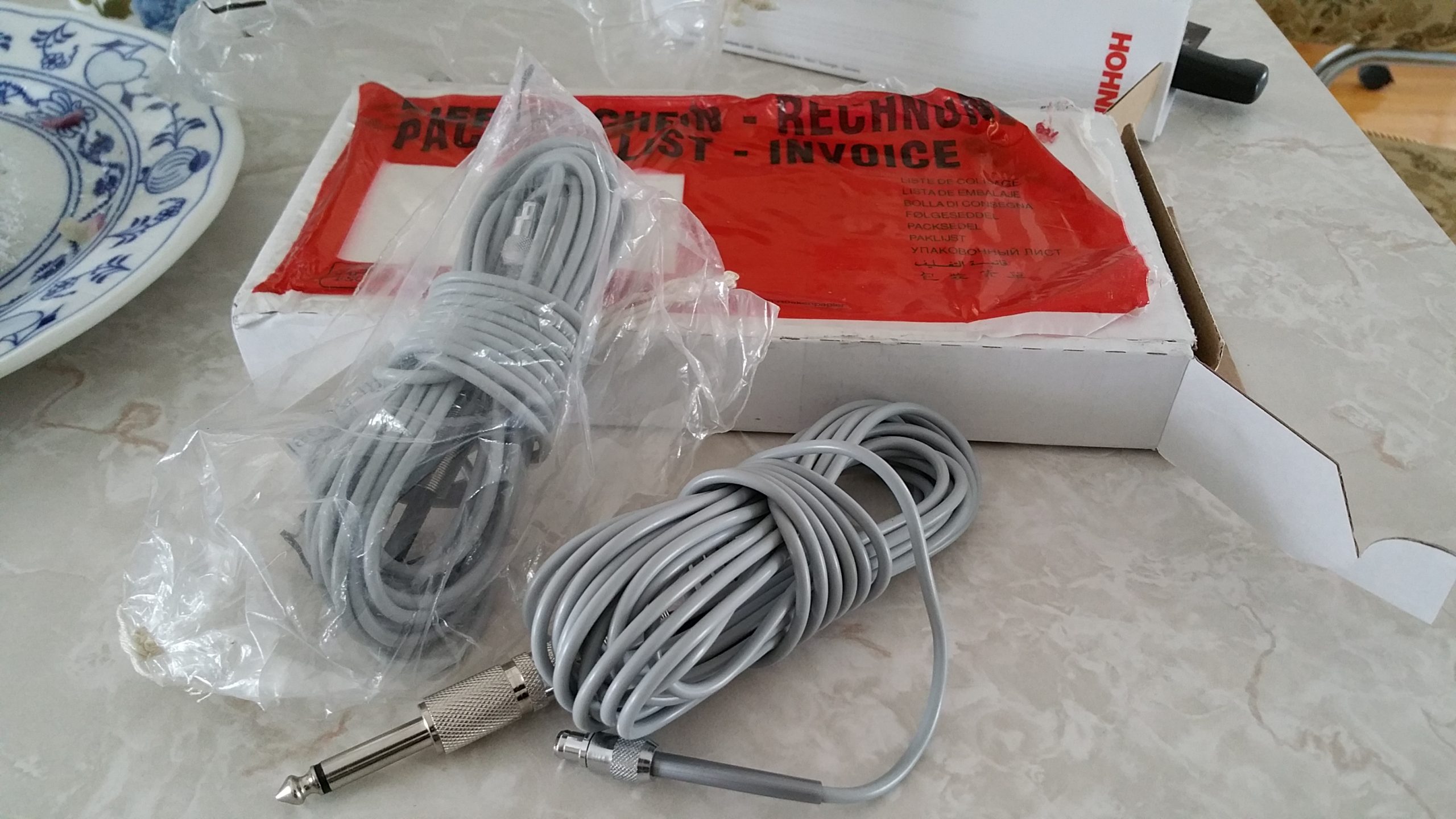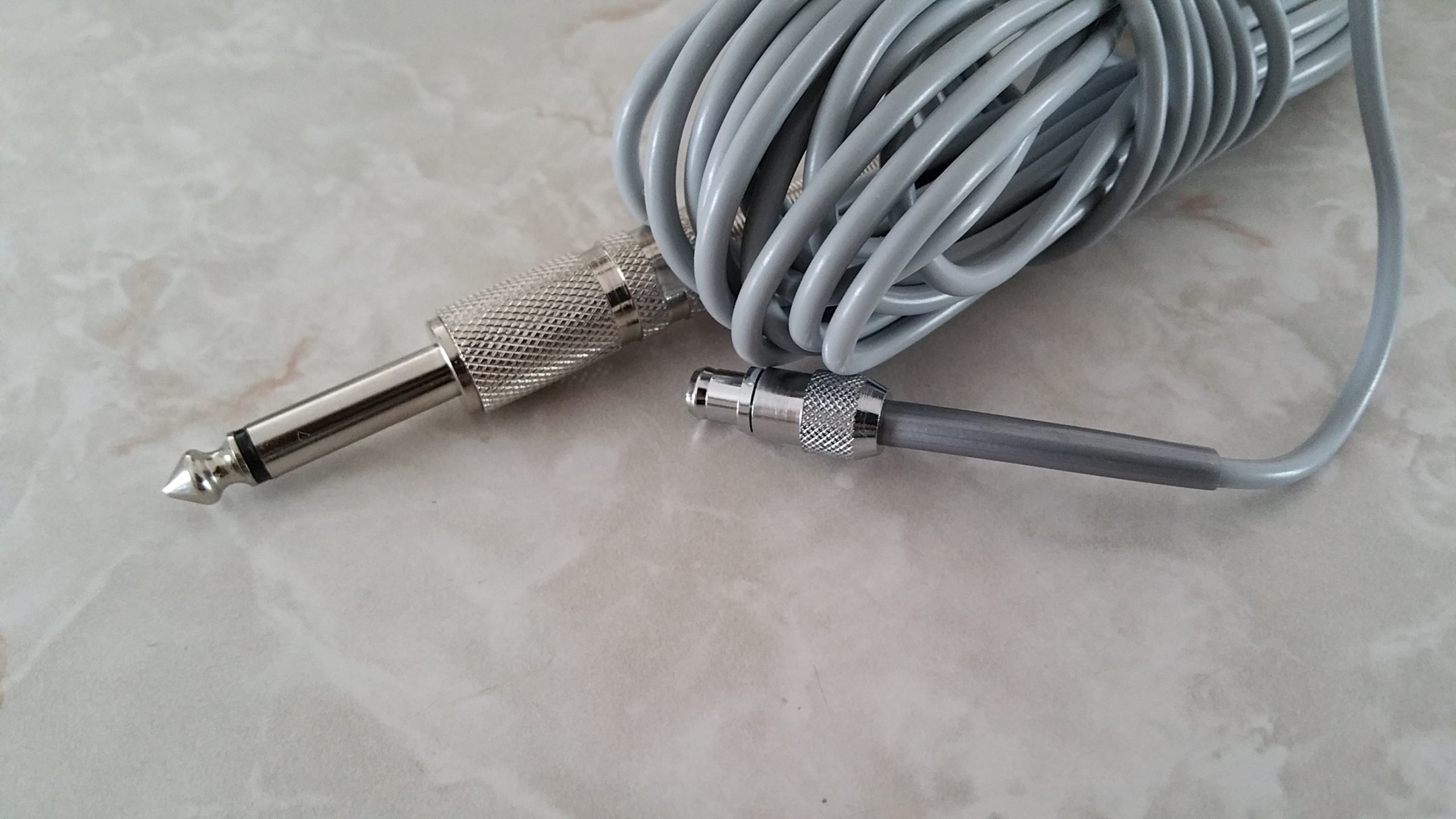 I have just earlier today placed the accordion in for some needed repairs caused by 25+ years of neglect, so I will wait until later to test out the mics. Even if for some reason the mics no longer work, this is the basic system I am keeping, and will replace the required internals only if needed. More to come on this, after I get my baby back from the repair shop and can finally do some testing.
April 29, 2016
With my accordion on it's first day back from repairs, I tested the mics at home today. As suspected, the microphones in my accordion are dead as door nails. Electret mics have magnets inside that let them do their job, unfortunately, these magnets have a lifespan (a couple of decades is what I read), but that lifespan has long passed and they are dead.
A quick email to Hohner in Trossingen in Germany reported to me that these mics have not been made or sold for decades. Well, I know that modern replacement accordion mics are very expensive, ranging from $300 to over $1000! As potentially good as these may be, they break the one rule that I must have, and that is to keep my Hohner as original as possible.
Adding aftermarket mics means more holes in my accordion, more complexity, the need to change batteries regularly and those things just make me frown.
So what are the alternatives?
It would be to try to find mics that would replace the ones in the accordion now, meaning electret or some form of dynamic mics. Expect another post on the results of my work on this soon!
---
---