We have been busy cooking for lots of great events and seasonal lunches and cocktail parties but we were offered an opportunity we couldn't pass up. Maria Donato, our friend from the YWCA told us about the amazing Country Christmas Store in Pelham, just outside Fonthill. It's a gorgeous drive and we got to the incredible refurbished barn that becomes the Pop Up Christmas store in just 20 minutes (it takes that long to find a parking spot at the Pen Centre at Christmas). This is Sidney Beamers' brainchild and it is in it's 6th year! Local vendors sell handmade goods Thursday through Sunday and all week during the final week before Christmas. During the short time I was there I saw folks setting up with handmade soaps, and gorgeous wooden canes. There was also lots of shiny stuff that I had to walk away from since I can't buy anything until the Grand Opening on Wed Nov 8th at 5 pm. Check it out:
 www.thecountrychristmasstore.com
Sidney has several freezers which we will fill with our special kind of Comfort Food served in portions for 2 or 4. You can always call us and we can deliver these goodies to you if you like, and we have the time (call Danielle 905-246-2605), and if you want a few orders I can probably get them to you fresh instead of freezing them, just give me a couple of days notice! Pricing varies and I'll try to get it uploaded soon.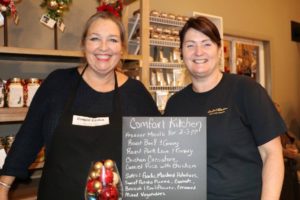 Chicken Cacciatore on Pasta Chicken Thighs slow braised in Chunky Tomato, Onion, Sweet Pepper, Celery and Mushroom  served on Fusilli Pasta to hold the luscious sauce
Old Fashioned Meatloaf Ground Beef with a little onion and garlic topped with a touch of tomato sauce to glaze the top. Served with Mashed Potatoes and Glazed Carrots
Roasted Pork Loin Lean Pork Loin slow cooked over Fresh Rosemary sprigs, stuffed with a little sweet onion to keep it moist and tender, and served on a Sweet Potato, Carrot, Apple and Potato Hash
Shepherds Pie Lean ground Beef seasoned to perfection and topped with Creamy Mashed Potatoes
Famous Pot Roast with Gravy Comfort Farms Beef slow braised in a bit of Red Wine until it falls apart. Served with Garlic Mashed Potatoes, loads of gravy, and your choice of veg.
Chicken Breast in Fresh Herb, White Wine Cream Sauce Boneless Chicken Breasts are smothered in a Cream Cheese based herb sauce, served with Rice Pilaf and choice of veg. 
Chili con Carne You know this one, beef and beans and everything you expect from Comfort Chili
Curried Chicken Rice Chunks of Chicken Breast sauteed with fresh Ginger, Garlic and onion stir fried with rice and a few cashews and raisins.  A wonderful lunch!
Baked Ham with Creamy Scalloped Potatoes With choice of veg. Just like mama used to make. Only better!
Traditional Beef Stew Chunks of tasty Beef, Rich Gravy, Carrots and New Potatoes
Beef Bourguignon French-style Stew with Bacon, tiny onions, Button Mushrooms and that tender Slow Cooked Beef
…and then there's Dessert!
Old Fashioned Rice Pudding Creamy, Custardy cinnamon and vanilla slow cooked rice pudding. Serve it warm. Unless it's a special order, this baby is full of raisins, 'cause that's how we like it!
Award winning Bread Pudding with Whiskey Sauce This was voted Niagara Magazines' #1 dessert in Niagara, and now it's back!  You may want to top it with a little vanilla ice cream. Just sayin'
Strawberry Rhubarb Cobbler Sweet and tart fruit under a tender rich cake-like cobbler topping